Brochures provide credibility and add a personal touch to your marketing strategy. Place the information your patients and practitioners want right into their hands.
Customized Brochures
Our compounding brochures are now FULLY CUSTOMIZED, i.e., branded with your colors and logo and photos to coordinate with your other digital and print materials, with text customized for your practice.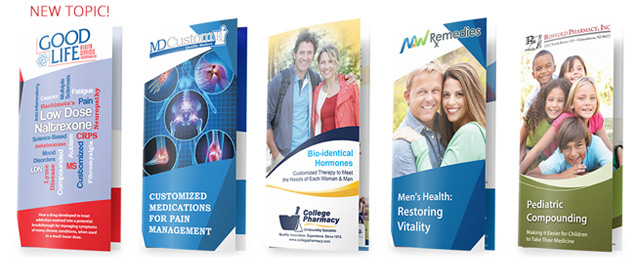 These 6 panel, tri-fold brochures may be ordered individually or as part of a package. Topics Include:
BHRT for Men and Women
BHRT for Women
BHRT for Men
General Compounding
Pain Management
Dermatology
Dental Compounding
Palliative Care
Pediatric Compounding
Veterinary Compounding
LDN
Customized brochure pricing for individual brochures (one type):
#500 (minimum)/$499 • #1000/$649 • #2000/$999 • Shipping additional
Starter Package pricing (minimum #250 of each brochure and in increments of #250):
#250 of each of 4 brochures $999
#250 of each of 5 brochures $1249
#250 of each of 6 brochures $1399
#250 of each of 7 brochures $1549
#250 of each of 8 brochures $1699
Shipping Additional
Larger packages and other quantities are available. Please call for pricing.
TO ORDER, call 814.337.3441, email info@storeymarketing.com or complete the following form:
View standard brochure content, which can be customized for your pharmacy. Please call 814-337-3441 for a temporary password.
Storey Marketing can also design completely UNIQUE brochures to highlight your specific services. Inquire for details.